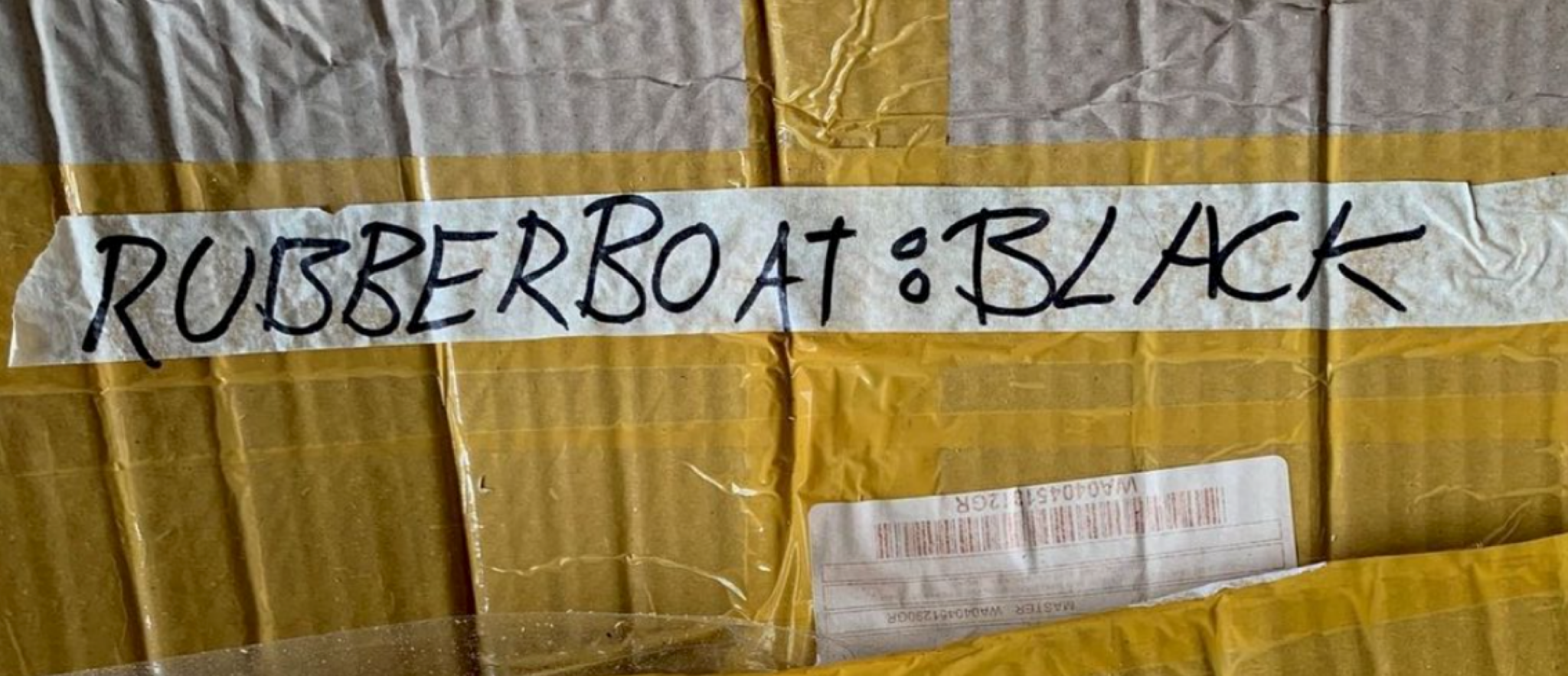 The Berlin-based non-profit organization mimycri produces bags from stranded inflatable boats and advocates for an inclusive economy and society.
How does it feel to carry a bag on your body made from the rubber of a stranded refugee boat? The material has experienced first-hand the drama in that boat – could you then carry it around in the form of a fashion accessory in everyday life? The Berlin-based non-profit organization mimycri weaves the products with a forward-looking story that gives perfect sense to their use.
The idea for mimycri was born on Chios, where founders Vera Günther and Nora Azzaou had volunteered on occasion since 2015, picking up refugees at the coast. While cleaning the beach, their eyes were caught by the inflatable boats that were lying around as trash. This is how the plan came about for making something new and useful at home in Berlin from the discarded and useless boats, and to incorporate the craftsmanship and design expertise of people with refugee experience. These included Abid Ali from Pakistan, Khaldoun Alhoosain from Syria and Elahe Saji from Iran, who began working at mimycri, learning German in the process and earning money so that they were able to move out of their refugee accommodation into their own apartments.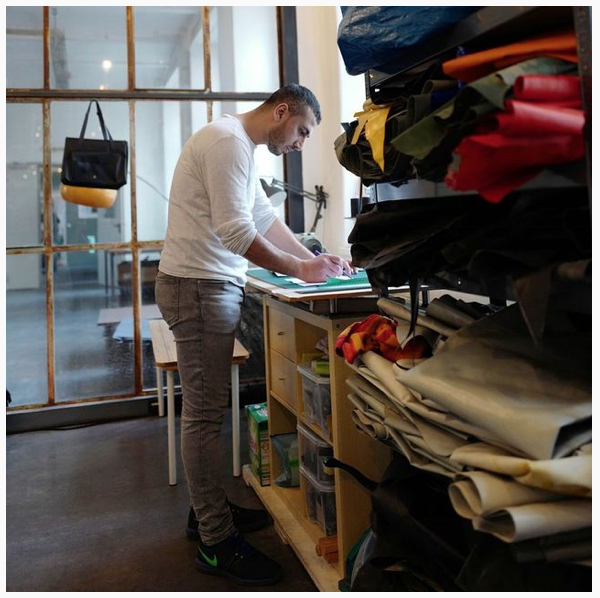 For product development, mimycri deliberately relied on feedback from their community. "When we initially communicated our idea via Facebook, various people with and without refugee experience came forward to collaborate on the design process and gave valuable input." This resulted in a first prototype, which a product designer further developed together with tailors before a bag designer developed the final product variants. "The collaboration of people with and without migration backgrounds that leads to a concrete product connects in a special way because a new understanding for each other develops in the process," explains Vera Günther. 
The mimycri logo can be seen as both a leaf and a butterfly. It visualizes the mimicry principle of animals that can transform their appearance and uses it as an analogy: The rubber boats can be interpreted either as trash or as a valuable resource. Thus, the sign represents, above all, a change of perspective and, at the same time, also refers to the possibility of exploring the topic of migration from a different angle. Challenges can be equally perceived as opportunities.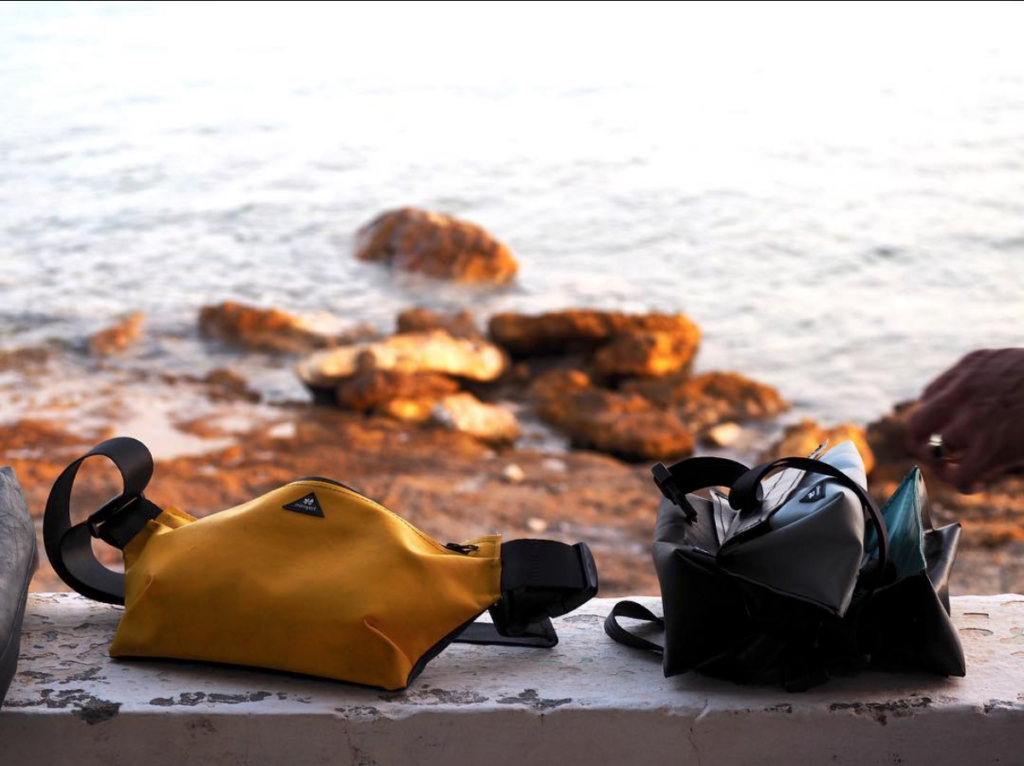 The bags and backpacks are intended to serve as "communication starters." "Some find the idea macabre at first, but that's part of the concept," comments Vera Günther. "Because of the fact that mimycri is not a feel-good story, but is rather provoking, it encourages a different kind of engagement. The authentic material triggers something different than digital images." What otherwise only happens on the edges of Europe, at a comfortable distance, moves up close and personal through the bags. "Our customers tell us that they themselves now deal more consciously with the topic of migration and talk more about it with others." Anyone who carries one of these bags also carries an attitude and takes part in telling this story about changeability.
The two initiators, who met during their studies, have already received many awards, including the German Integration Award (2017) and the title of Cultural and Creative Pilots of the German Federal Government (2018). Before founding mimycri, Nora Azzaou worked as an innovation project consultant for various companies, while Vera Günther advised the German government on sustainable development.
Since the summer of 2020, mimycri has been cooperating with the Greek-Luxembourgian organization ANKAA that works to train people with refugee experience and support them entering the labor market. For this purpose, mimycri moved its production to Athens, where around ten people now manufacture the bags. "Through this cooperation, we create more jobs that are directly linked to training opportunities and reduce our ecological footprint," explain the initiators.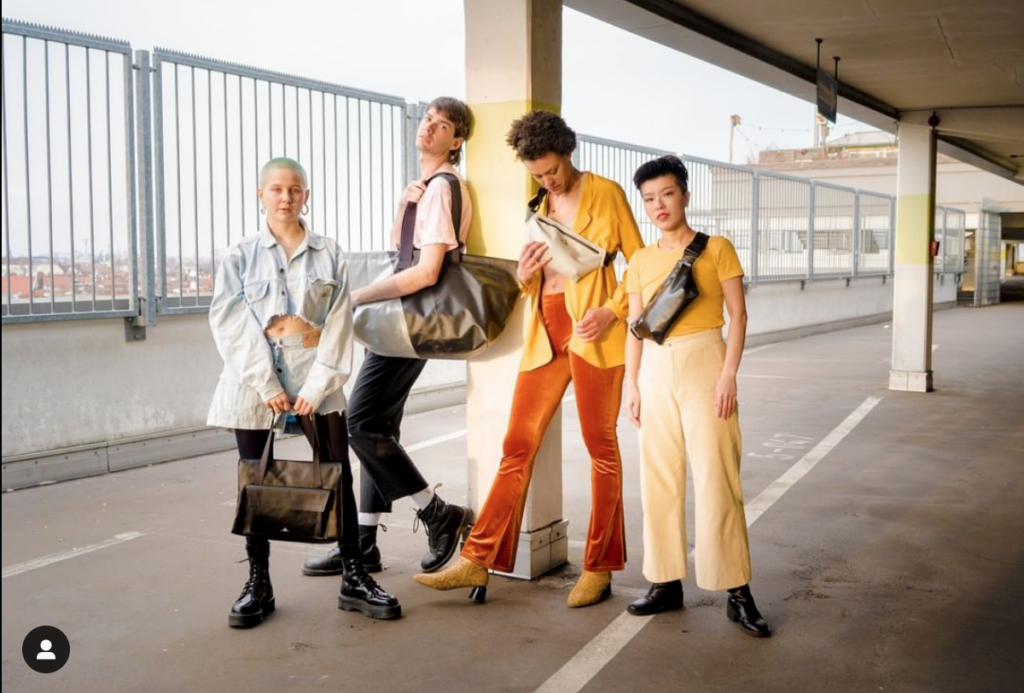 However, mimycri offers more than bags with a special story. The organization advocates – through various campaigns – for an inclusive economy and society in which all people have opportunities for employment and where resources are used in the best possible way. "Politicians should finally improve the conditions for value-creating companies so that they can compete more easily in the market against purely profit-oriented companies," explains Vera Günther. Shortly before the European elections in spring 2019, mimycri, together with the citizens' initiative Pulse of Europe invited 18 people to discuss their visions for Europe. This also resulted in the creation of an EU flag, which was handmade by the participants, from the rubber material. 
In addition, the two founders pass on their experience in the field of co-creation and sustainability to companies and organizations through lectures and workshops. So, you could also look at it this way: mimycri is not primarily a bag brand, but above all a strong voice that explains in many ways how ecological and social aspects can be innovatively interwoven – for the benefit of a better future. 
Intro image: 
[photo: © mimycri]