Missed in Action Dance Company
The Missed in Action Dance Company in Duisburg enables young people with and without refugee experience to tell stories together on stage.
"Dance, dance, dance, otherwise we are lost!" Although Mia Sophia Bilitza, director of the Missed in Action Dance Company mentions this quote by Pina Bausch introducing a video documentary, it could actually be understood as the perfect motto for the young Duisburg ensemble. The young participants deal intensively with topics such as war, peace, flight and identity through dance, processing their own experiences in the community. For many of the participants that come from crisis areas such as Syria or Afghanistan, this opens up completely new spaces. One of the dancers, Mirza, for example, explained in 2017 that dancing for him means "being free," while another named Omid added: "When you're on stage, you have a new soul."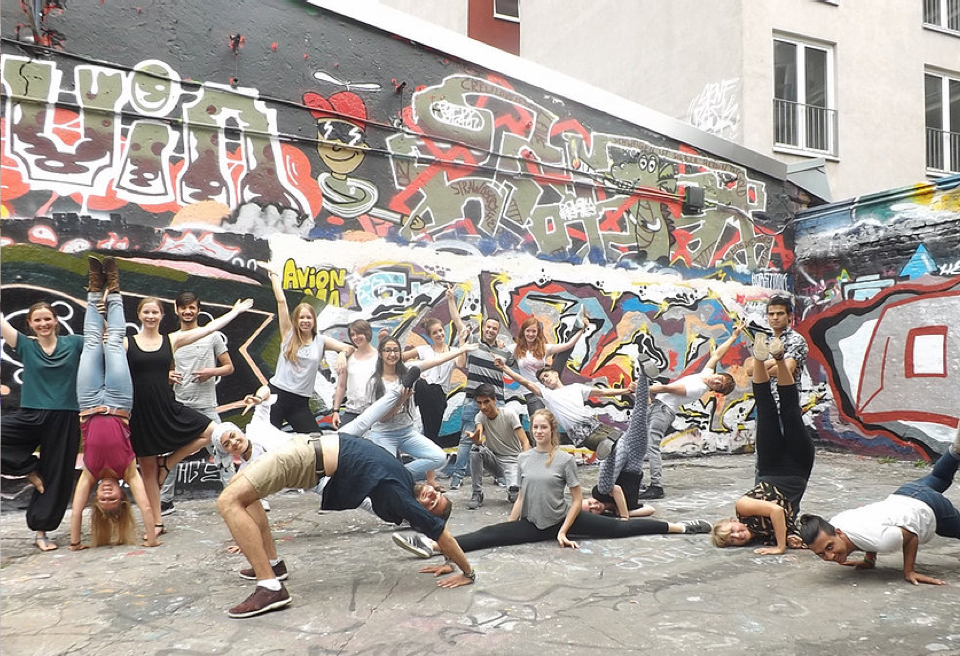 The Dance Company deliberately targets people with and without dance experience. Around 10 to 20 young people are able to take part in regular community dance training here free of charge, supported by funds from the Landesarbeitsgemeinschaft Tanz NRW and donations. For this purpose, Mia Sophia Bilitza is always in search of courageous young people in schools who would like to participate in dance stage projects. They speak Persian, Dari, Arabic or Romanian, among other languages, and are still learning German. But when they dance, the group manages to develop a common language. 
"The people from these other countries bring an energy that we have lost a bit here in some cases," explains Mia Sophia Bilitza. "To be able to work with that energy, to be able to choreograph from that energy, that's quite wonderful." However, young people without any experience of flight or without a migration background are also very welcome here, because it is precisely this that creates a lively exchange between cultures. What Mia Sophia Bilitza particularly appreciates about community dance is that it allows the dancers' identities to be carved out. In her view, they carry "something very pure" within themselves, which gives the choreographies an authentic impact – unlike with professionals who are used to being on stage.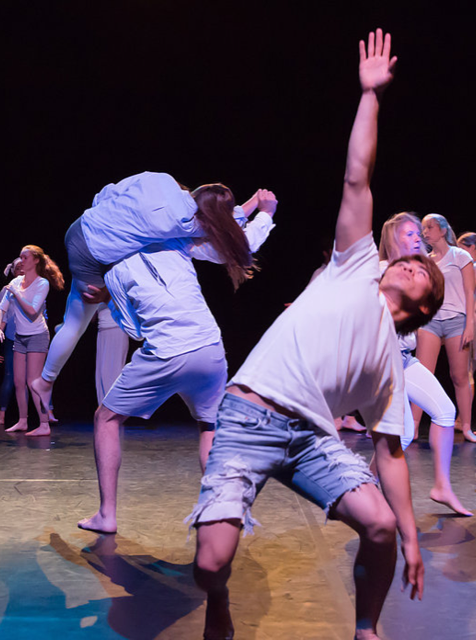 The Missed in Action training takes place at the dance theater school of Ulla Weltike, Mia Sophia Bilitza's mother. Many of the movements have their origins in modern dance, but jazz, hip hop, the Levantine folk dance dabke and the participants' own ideas are also incorporated. On the one hand, the choreographies allow the dancers to express their individuality, while on the other hand, they temporarily perform as a single coherent body – for example, in a scene of the play Begegnungen, which was performed in 2018 at the Duisburg Theater. Here, the Missed in Action Dance Company cooperated with the dance theater Ulla Weltike and the choreographer Royston Maldoom. The video documentary (https://www.youtube.com/watch?v=Ge7cMxmML4k&feature=emb_logo) shows that Missed in Action is always about using dance to tell stories and convey messages. In this case, the themes of flight, disorientation, fear, farewell, separation and sadness were made impressively tangible by the group.
Before founding the Duisburg Dance Company in 2017, Mia Sophia Bilitza (https://www.miasophiabilitza.com) had already gained diverse experience through various intercultural dance projects. The piece AlltagAlleMania, which she choreographed together with her brother Max Bilitza, was awarded the Children and Youth Project Prize of the State of North Rhine-Westphalia in 2015, and her project Imperfections won first prize in the stage dance section at the Duisburger Tanztage 2016. In addition, the choreographer has also carried out many dance projects abroad, for example at the Shanghai Grand Theater, the Cultural Palace Ramallah in Palestine and the Goethe Institute in Tanzania. 
Her multidisciplinary approach is also reflected in her educational background. In addition to dance training at the Duke Ellington School of the Arts in Washington, at danceworks Berlin and at the Fontys Dansacademie in the Netherlands, she earned a Bachelor of Arts in American Studies and Gender Studies and a Master of Arts in International Arts Management. She is currently pursuing a PhD at TU Dortmund University, focusing on topics such as inclusion, respect studies, racism, critical whiteness studies and dance management in crisis areas. "I am interested in evaluating practical experiences using scientific methods and making these findings available to society," explains Mia Sophia Bilitza. "For example, I want to make it clear that dance projects can actually bring about changes in attitudes. This is not subjective wishful thinking of dance teachers, but can be objectively proven."
The interactions between the theoretical and practical work obviously ensure that both areas cross-fertilize each other. The intensive theoretical examination of dance as a medium of social transformation also flows back into the choreographic work. 
Mia Sophia Bilitza chose the name of her dance company – Missed in Action – in reference to the status of missing soldiers. "Many of the young people who came to us in the beginning had fled war zones, often without their parents. The dance space should be a safe zone for them, where they can put down their stories and thereby free themselves," explains Mia Sophia Bilitza. She also wants to give them the opportunity to try out new roles on stage, thereby helping them to develop their personalities.
These new roles include, for example, those of the Peaceful Warriors, the name of one of the plays. After their experiences of terror, destruction and dehumanization, the young people can learn to fight together here in a peaceful way – for the dream of a better, solidary world. 
Donate:
Verein Internationales Jugendtanztheater Duisburg e.V.
Sparkasse Duisburg
IBAN: DE05350500000219002201
BIC: DUISDE33XXX
Verwendungszweck: Spende Missed In Action Dance Company
Intro image: 
Feature Missed in Action Dance Company [image source: https://www.youtube.com/watch?v=Ge7cMxmML4k&t=11s]