The organization morethanshelters e.V. (MTS) both helps people in crisis areas and works towards the integration of refugees in Germany. 
Whether in crisis regions, disaster areas or at the edges of Europe, where refugees live in inhumane conditions, morethanshelters e.V. helps to create flexibly configurable spaces for schools, kindergartens, mobile hospitals and social interaction in many places around the world. For this purpose, MTS founder, Daniel Kerber, has developed a modular tent system called Domo in cooperation with Nordisk, a Danish outdoor equipment company. 
The basic element has a hexagonal floor plan and offers an igloo or yurt-like space of 24 square meters. Additional modules can be added to the sides of the hexagon, allowing MTS to design larger spaces having different architectural structures that are specifically tailored to each social function and cultural context.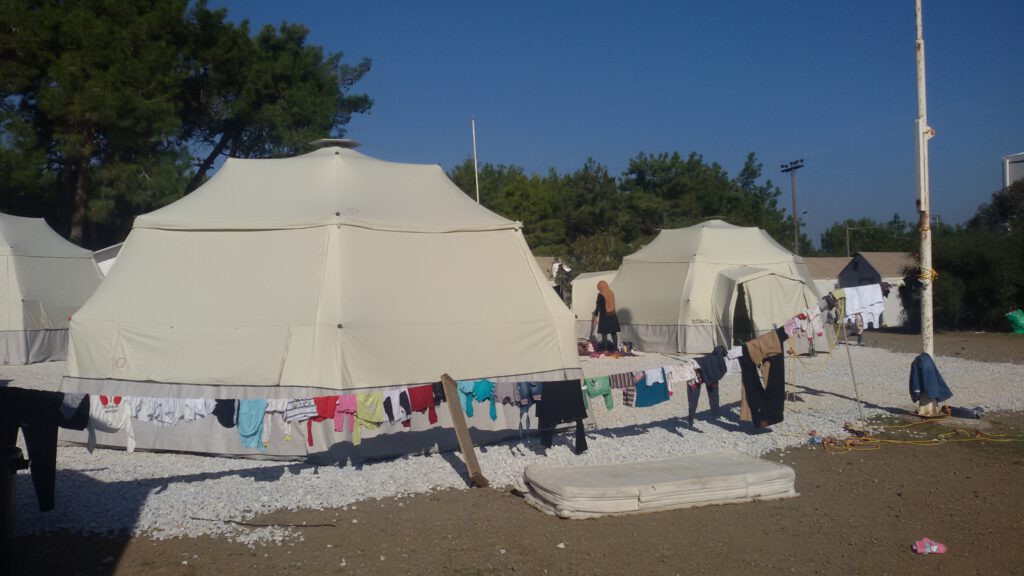 Daniel Kerber has had previous experience with temporary dwellings from a completely different perspective. After studying fine arts at the Kunstakademie Düsseldorf, he traveled extensively to investigate the informal architecture that people have created in refugee camps and slums around the world. He processed his impressions in spatial installations that were exhibited in America, Italy, Austria and Germany. However, his experiences in the camps made him realize that it would make more sense to create something that would not only appeal to art enthusiasts in the metropolises, but would simultaneously have maximum effectiveness for the displaced people in the camps. Thus the vision for the modular tent system was born. This has since been used in Za'atari, the largest refugee camp in Jordan, in the earthquake zones of Nepal, in the PIKPA refugee camp on Lesbos, among others, as well as along refugee routes. 
While conventional refugee tents often last only six to ten months, after which they must be completely replaced, Domo's supporting structure is so strong that it can withstand the elements for up to ten years, thanks to its hollow-section aluminum construction. The recyclable outer skin can be replaced when necessary, resulting in lower logistics costs.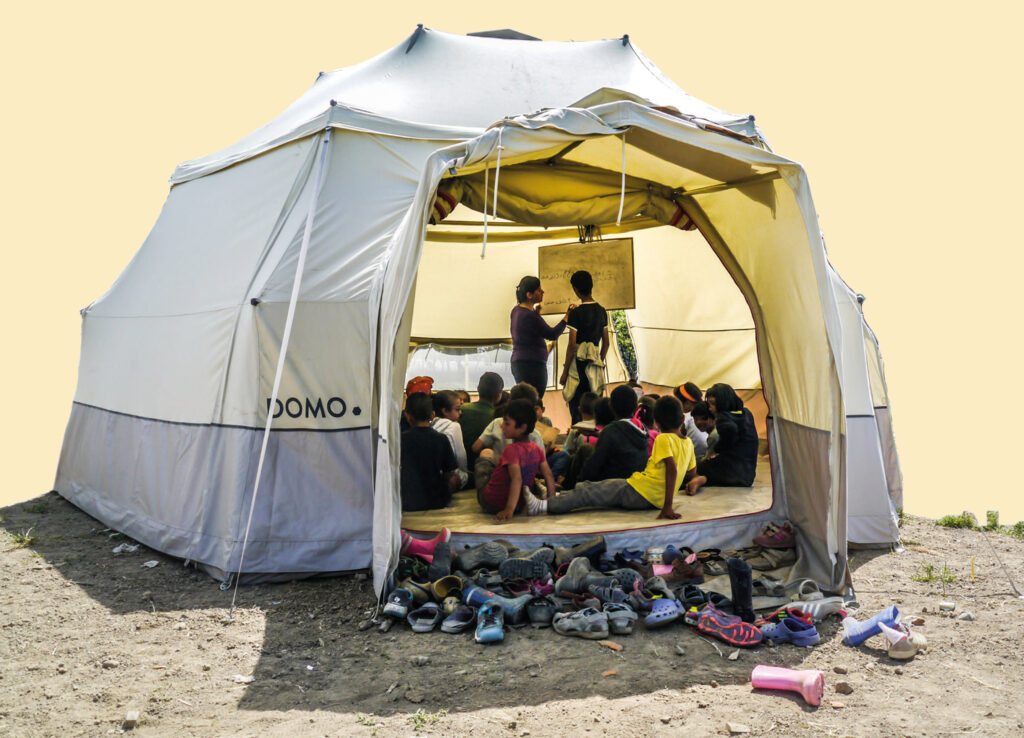 The name morethanshelters, however, makes it clear that Kerber is concerned with much more than the construction of sheltered spaces. The team, which includes experts from various disciplines, also supports people in need through other measures in order to sustainably improve their living situations on site. In Za'atari, for example, MTS assisted in the implementation of wastewater filter gardens and worked to develop a solar farm. It also initiated an upcycling project called Bag 4 Life, in which 300 single women made bags from old UNHCR tent fabric, helping them improve their financial situation. MTS also participated in the planning for the civil society-organized refugee camp PIKPA on Lesbos. These examples illustrate the team's holistic approach, taking into account social and ecological as well as economic and political aspects.
In addition to its involvement in crisis areas, MTS has opened up new fields of work in urban design in Germany. The goal is to bring refugees and residents together at the neighborhood level. In Berlin, the team has implemented various integration management projects, for example in the Charlottenburg district, Neukölln and Schöneberg-Tempelhof. These concepts are essentially about empowering all stakeholders – MTS calls them city users and city makers – to work together to positively shape the future of the neighborhood. In addition, Kerber is currently focusing on evaluating practical experiences, advancing the strategies for transformation processes, and publishing the results to make the methods accessible to others.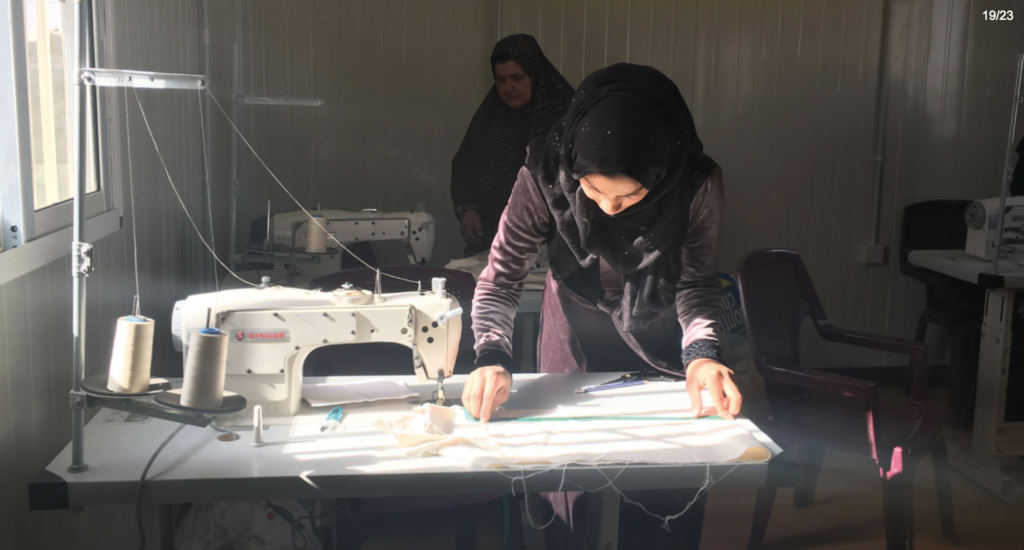 Shuttling back and forth between refugee camps and Western society, Kerber spent years grappling with the question of what one really needs to live and what makes one happy. On the one hand, he spoke with people who had a lot but were still unhappy; on the other, he spoke with people who had lost everything but still invited him into their tents and showed him great hospitality. These conversations shed new light on the question of what wealth means. "For myself, I found that inner wealth comes precisely from being meaningfully active," he explained in an interview with the magazine Original.
He was influenced by figures such as Joseph Beuys, who used unconventional artistic methods to radically advocate social change. He was also inspired by the multi-talented Buckminster Fuller, who worked as an architect, designer, philosopher and writer, among other things, and saw his life as an experiment – he wanted to find out what an individual could contribute to changing the world for the benefit of humanity.
Daniel Kerber has retained his creative approach. From his perspective, the various forms of intercultural work have not distanced him from what once motivated him to investigate informal architecture in slums and refugee camps. "Even though it's not about big international exhibitions now, the mindset or way of working is exactly the same. I just changed the impact context," Kerber explained in another interview with Original. His activities, whether in distant places, in a Berlin neighborhood or whether in strategizing, can certainly be seen as a kind of "Gesamtkunstwerk" (synthesis of the arts).
Intro image: [Foto: © MTS]
Upcycling project in the Jordanian refugee camp Za'atari: old UNHCR tents are turned into bags