Parkour Creation e. V. in Hamburg provides a special kind of communication experience between different cultures.
Parkour is not only an extremely versatile sport, it is also a kind of parable: With skill and perseverance, it is always possible to overcome obstacles. In this respect, parkour is also a special way of looking at the world – a spirit that gives courage to all those who want to overcome quite different hurdles in their lives. Die Halle in Hamburg's Oberhafenquartier, which opened in 2017 on the site of a former freight station, is a place where this spirit can be experienced. Here, Parkour Creation e. V., founded by Sebastian Ploog, Felix Bornemann and Ben Gallinat, offers a wide-ranging program for different target groups.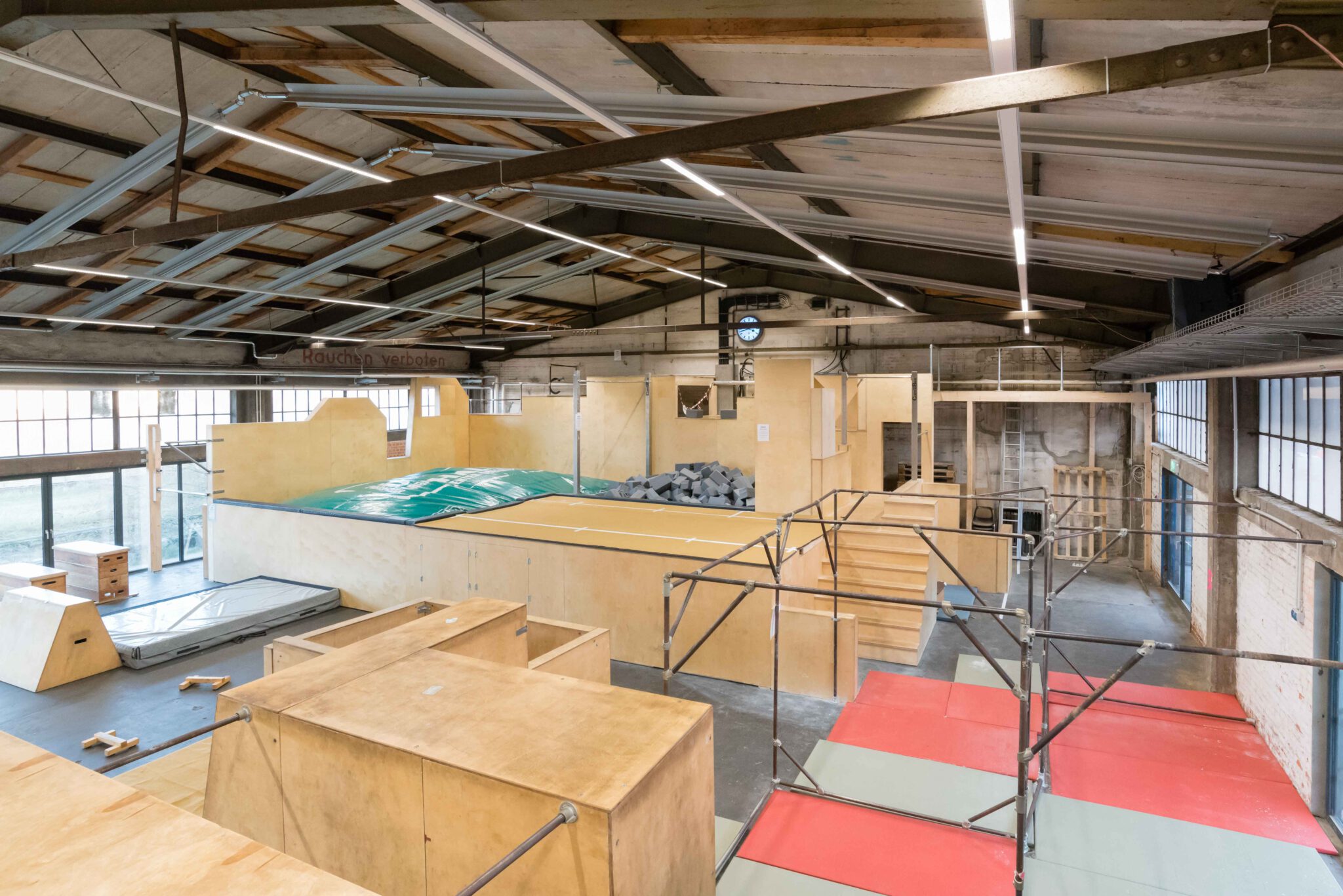 From the beginning, projects for the integration and inclusion of refugees have played a central role. The hall offers open, free courses and vacation camps in which children and young people with refugee experience learn the basics of parkour together with people from Hamburg of the same age under professional guidance. In addition to these entry-level opportunities, Die Halle also offers workshops lasting several months in cooperation with various refugee accommodations, housing projects and initiatives. For these purposes, the association uses the specially established Live Free, Run Free fund, which also provides financial support for memberships.
The Luftsprünge project is currently in the starting blocks and is aimed specifically at girls and young women. Together, they learn to master other challenges through parkour. The goal is to boost the participants' self-confidence and enable them to overcome cultural, social and mental hurdles on their own. "Through this offer, we also want to provide a blueprint for other cities that want to use parkour specifically for these purposes," explains project manager Jette Krauss.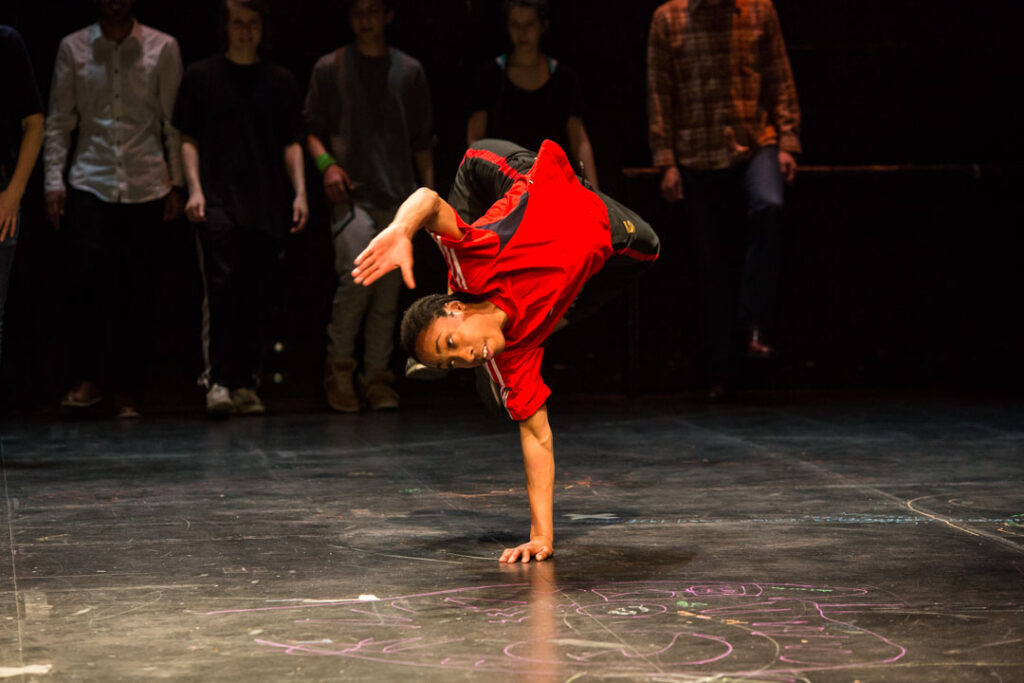 In addition to the sporting aspects, Die Halle also makes it possible to experience the creative potential of parkour. From the association's point of view, it is essentially always about "expressing yourself in motion, just the way you are." This expressive dimension is particularly evident in the theater projects led by choreographer and director Rica Blunck. Here, for example, the stories of the participants are performed on stage in words and movement. As mixed groups of refugees, young people with immigrant backgrounds and long-established residents, the actors learn to use movement in the community as a means of creative expression and for dealing with social and artistic issues. Through the universal language of movement, the open ensemble also succeeds in creatively overcoming language barriers. 
All these different formats are intended to show participants ways of becoming part of Die Halle community. In addition to its integration work, the non-profit association supports socially disadvantaged children and young people through its programs and also offers projects for the inclusion of those with special physical and mental challenges. Furthermore, the association cooperates with theater, school and youth projects from almost every district of Hamburg. Die Halle is open to everyone for sporting activities – regardless of age, religion, gender or origin. But why does togetherness work so much better here than elsewhere? "Parkour teaches a healthy and respectful way of dealing with oneself and others, free of rules and conventions," explains the team.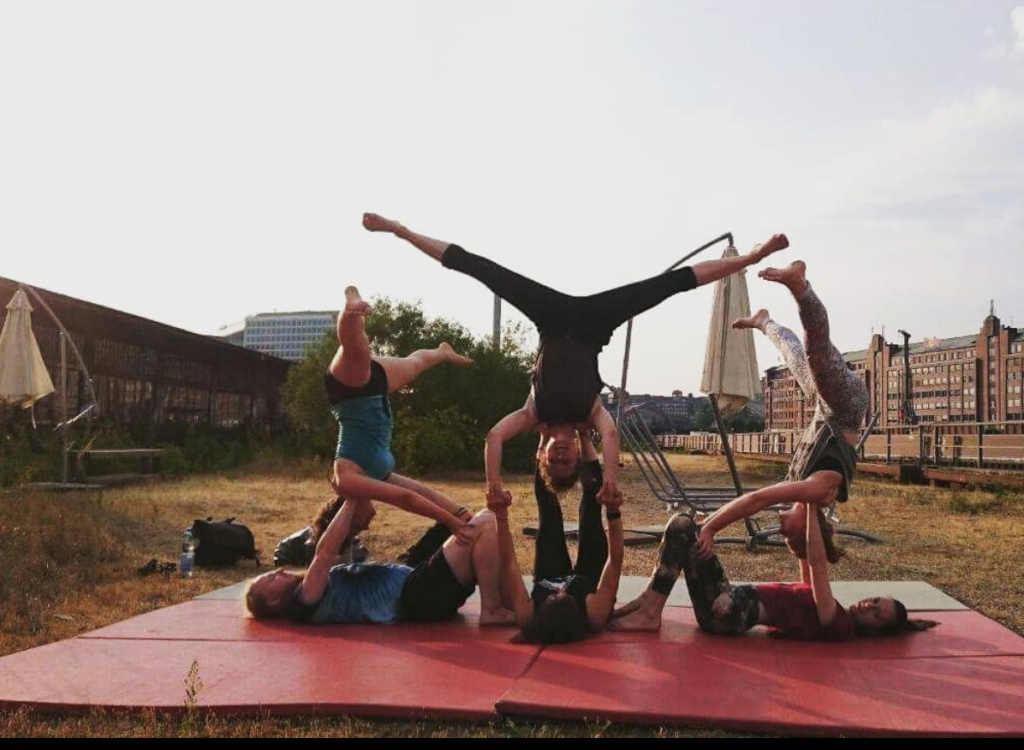 The association is also involved far beyond Hamburg's borders. In 2018, for example, a team traveled to Iraq for two weeks under the motto Creating the Us to support the parkour community there in creating intercultural dialogue opportunities and thereby strengthening conflict prevention in the long term. "During hours of training in the scorching midday heat, friendships were made and warm invitations extended to each other's cities. It became clear: Movement can act as a link between all people," sums up the team, who plan to push ahead with further projects in Iraq in the future. 
Die Halle also promotes international understanding through parkour through the Gravity Sucks Jam event, which has been held annually in Hamburg since 2016 (Covid times excepted). Most recently, 320 participants from 35 nations came together here to train together – and to communicate with each other in a variety of ways through movement. 
Intro image: 
[photo: © Parkour Creation e. V.]