The brass band Banda Internationale uses intercultural echoes to play loudly against racism and exclusion and prove that music is a key to inclusion.
It doesn't really need to be explained at all, because it can be heard, seen and felt right away. When Banda Internationale enters the stage and starts playing, life sounds vibrant. Or more precisely, more vibrant than a single culture alone could ever offer.
The Dresden band began its musical journey in 2001 under the name Banda Comunale where they had already borrowed sounds from the world's crisis regions, whether North Africa, the Balkans, the Middle East, Colombia, West, East and Central Africa or Eastern Europe. Contemporary history then gave this sound a steadily growing relevance: Pegida meetings were being held regularly in Dresden, while simultaneously more and more refugees were looking for a new home there.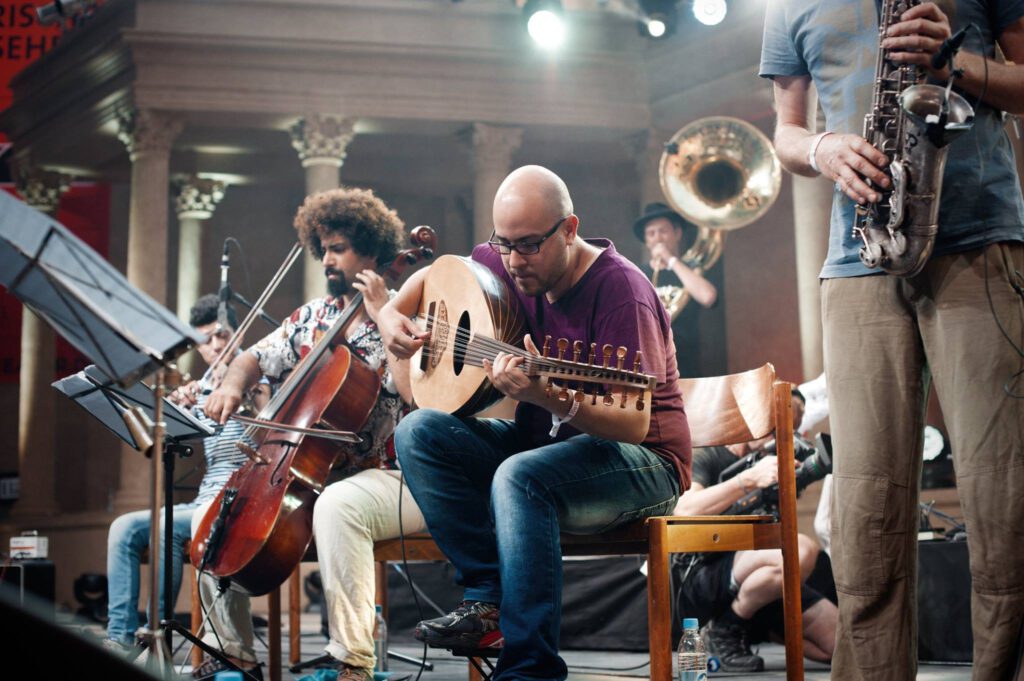 The band took a stand. They countered the hatred of Pegida and the right-wing Nein zum Heim (No to Home) initiatives by playing in first reception centers for refugees. In 2015, Banda Comunale decided to go one step further and include refugee musicians in their collective to send an even clearer signal against right-wing extremism, prejudice and exclusion. Currently, around 20 members, including musicians from Syria, Palestine, Iraq, Scotland, Italy, Russia and Poland, play together under the new name, Banda Internationale. "Our great, common goal was to reinterpret homeland music, to open hearts, to break down prejudices and resentments and to contribute to an understanding between new and old-established Saxons, Germans and Europeans," explains the band, which has since given more than 300 concerts, including at the Heimatsound Festival in Oberammergau, the Art Festival in Weimar or the Jewish Achava Festival in the Thuringian Parliament.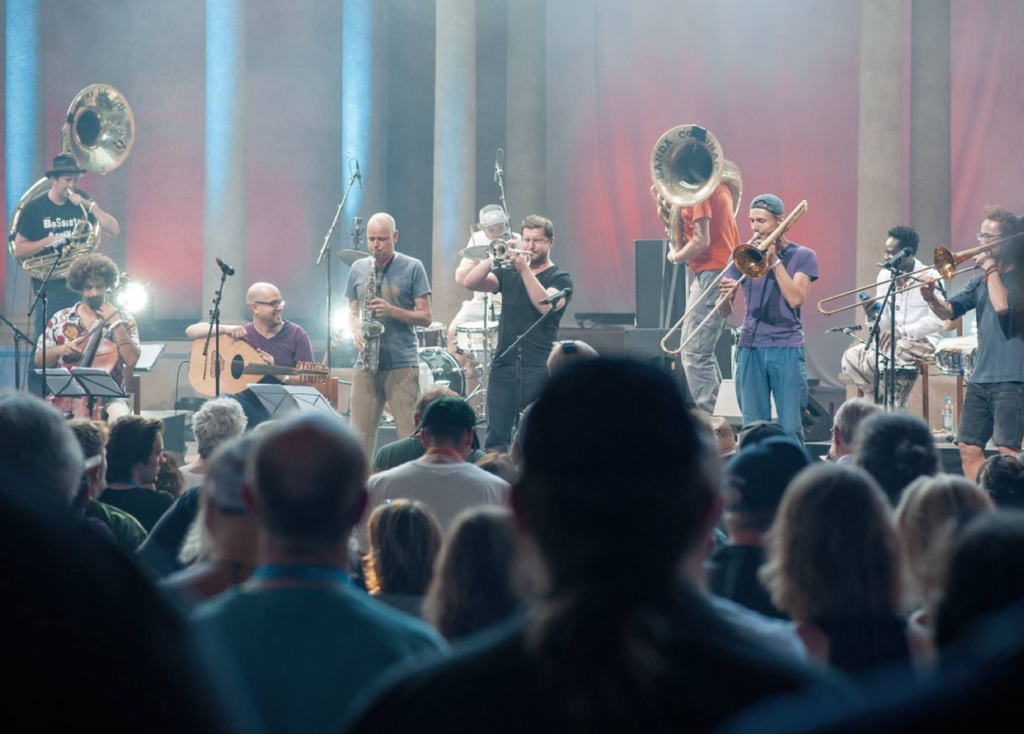 Banda Internationale has also deliberately played in places such as Freital, Bautzen or Plauen, where hostility towards foreigners had erupted in right-wing extremist acts of violence. In order to counteract this hatred, the collective has, for several years, also dedicated itself to working with young people. In Saxony, for example, the musicians conducted workshops in schools and socio-cultural institutions and initiated a band project with unaccompanied minor refugees.
For all its ties to Saxony, however, Banda Internationale focuses beyond the horizon. In 2018, some of the musicians traveled to Burkina Faso – the country of origin of Ezékiel Wendtoin, then the band's singer. There, he and others initiated the construction of a school in Ouagadougou. Banda Internationale was able to convince the mayor of Dresden to support the project financially.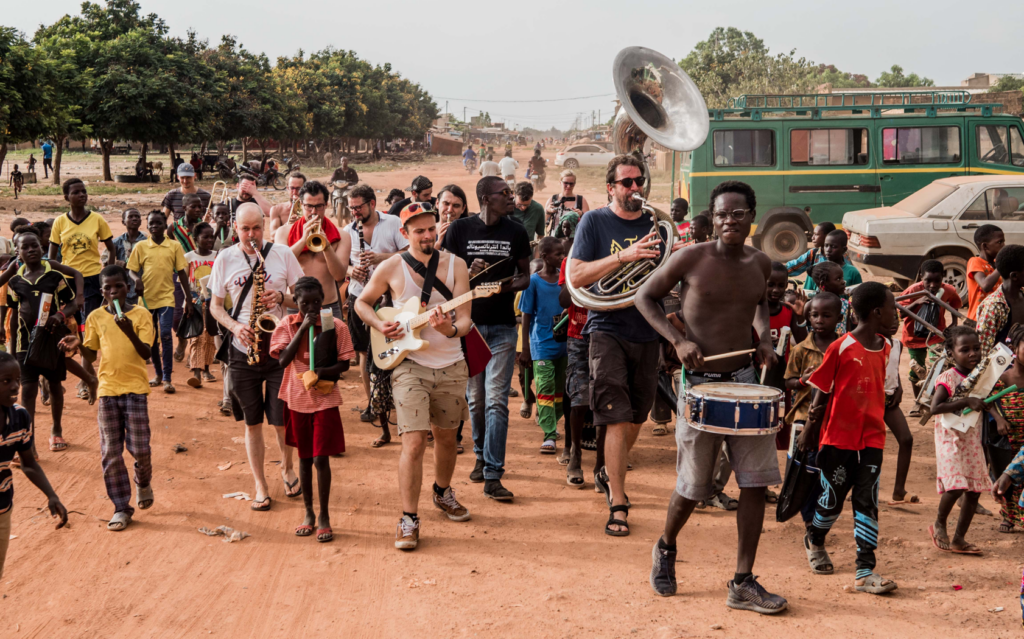 Numerous institutions and fellow musicians have taken up the band's commitment and pushed it further. Through cooperations with the Landesbühnen Sachsen, the Dresden University of Music, the Philharmonie Dresden, the Staatsschauspiel Dresden and musicians such as Sting, Smudo, BAP or Yo Yo Ma, the refugee band members were able to gain additional diverse experience and put down deeper roots in their new homeland. 
Banda Internationale has already received numerous awards. In 2016, the musicians took first place in the Special Prize for Projects for the Cultural Participation of Refugees, initiated by the Federal Government's Ministry of Culture, and in 2017 they received the German Prize for World Music in Rudolstadt. The success of this band is certainly due to the fact that everyone benefits equally from these musical magic moments. As the band sums it up: "Banda Internationale encourages a lot of people – the refugees, but also the Dresdeners, Saxons and Germans – who stand up for and advocate a welcoming culture." 
Rethinking, expanding and reinterpreting the concept of homeland – this is a challenge that our society must face today more than ever, not only in eastern Germany, but everywhere. While debates about this are tedious and often accompanied by hateful agitation on social media, the sound of Banda Internationale makes it clear in a very immediate way that cultural openness brings a breath of fresh air – and definitely makes for much better homeland music! 
Intro image: 
[photo: © Moritz Schlieb]